Although hardwood floors are a durable flooring option, they tolerate a lot of wear: daily traffic, spills, scuffs and scratches from pets, if you've got them. Moving furniture, wearing shoes inside or children playing with hard toys might damage your floors. But, you can also scratch or dull your hardwood floors if you don't clean them properly and regularly.
Carolyn Forté, executive director of the Good Housekeeping Institute Cleaning Lab, shares her easy-to-follow tutorials on how to clean hardwood floors like a pro — whether you need advice for everyday maintenance or a down-and-dirty deep clean. Keep in mind: Not every hardwood floor requires the same level of care, it will depend on your lifestyle and how much traffic it receives.
What You'll Need
How to regularly clean hardwood floors
Sweeping or vacuuming your hardwood floors regularly will save time in the long run, since you won't have to wet-clean as frequently.
For quick, everyday maintenance, use a broom or microfiber dust mop to pick up dust, dirt and crumbs that accumulate throughout the day. This will help prevent your floors from scratching.
Depending on the traffic in your home, vacuum your hardwood floors every few days. The best vacuum for hardwood floors is a canister vacuum because it has a long, oval floor brush attached to reach tiny spaces. "If you only have an upright model, be sure to turn off the rotating brush to keep the bristles from scratching your floors," Forté recommends.
---
How to deep clean hardwood floors
If you notice dirt, grime or food spills that can't be swept or vacuumed, it's time for a deeper clean.
For surface-treated floors, wet-clean with Bona Hardwood Floor Cleaner Spray. Spray a small 3-foot by 3-foot area with the cleaner and pick up any dissolved dirt with a microfiber mop.
Work your way around the entire floor, cleaning one small area at a time.
If you come across a spot that needs a quick touch-up, clean with a water-dampened paper towel and wipe dry.
Expert tip: "We don't recommend cleaning wood floors with vinegar," says Forté. The acidic solution can damage or dull certain hardwood flooring finishes.
---
How to remove scuff marks
Dirt isn't always the main culprit. When you move furniture or wear shoes indoors, you may notice scuffs on your hardwood floors. Luckily, they can easily be rubbed away with some elbow grease.
To remove light scuffs, buff it out with a sock or a clean, fuzzy tennis ball.
To remove heavier scuffs, apply baking soda to a damp sponge and gently rub the mark until it disappears. Rinse with a damp paper towel and buff dry.
---
How to keep hardwood floors clean
As a general rule of thumb, hardwood floors should be swept or dusted every few days, vacuumed weekly and deep cleaned every one to two months or as needed. Here's how to avoid cleaning your floors as often:
Wipe spills promptly: If you let wet spills dry on the floor, "they'll dull the finish and attract additional dirt," says Forté. Blot spills immediately with an absorbent cloth.
Keep your floors dry: Any liquid sitting on hardwood floors can lead to damage. "The worst thing you can do is let water puddle on the floor," says Forté.
Adopt a no-shoe policy: Dirt and grit are abrasive, which can scratch floors over time. "I am a firm believer in taking my shoes off as soon as I come in the door, because this simple act goes a long way to eliminating virtually all of the tracked-in dirt that can wreak havoc on a wood floor's finish," says Forté.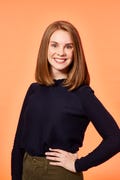 Amanda Garrity is a lifestyle writer and editor with over seven years of experience, including five years on staff at Good Housekeeping, where she covered all things home and holiday, including the latest interior design trends, inspiring DIY ideas and gift guides for any (and every) occasion. She also has a soft spot for feel-good TV, so you can catch her writing about popular shows like Virgin River, Sweet Magnolias, Hallmark Channel's When Calls the Heart and more. 

Associate Lifestyle Editor
Alyssa Gautieri (she/her) is the associate lifestyle editor for Good Housekeeping, where she covers all things home and interior design. Prior to joining GH in 2022, she wrote for publications including ELLE Decor, Chairish, BobVila.com, Unique Homes Magazine and LODGING Magazine, in addition to crafting product copy for home brands like BrylaneHome and VIGO Industries.
Source link