Look, everyone is tired. And I get it: What I've learned from repeated attempts at 4 A.M. writing binges is that sleep deprivation does not nurture a creative mind, no matter how brilliant and original an idea might seem while overly caffeinated under the glow of a SAD lamp. That said, many of us creatives can sympathize when, in week 11, our Project Runway crew has hit a wall. The fissures in their composure are widening with every flick of Christian's wrist. Tasked with creating "one runway look that showcases two styles" (in the spirit of conquering double binds, or something), their reactions are—hm, let's be gentle and call them "mixed."
The assignments themselves are doled out via buttons, which Elaine summons from the depths of a drawstring bag. Bishme gets "basic and bold"; Korto "formal and casual"; Rami "fitted and oversized"; Prajje "elegant and edgy"; Brittany "sexy and modest"; and Laurence "classic and trendy." Because he won last episode's freedom challenge, Bishme is given the option to swap out his button, but he chooses to keep it as the one-day challenge begins.
Once everyone's dragged their fabrics into the workroom, Christian hops around with his usual laundry list of comments and complaints: He helps Laurence save time on her blazer-jumpsuit and pleads with Bishme to emphasize the casual side of his hoodie-gown. Elsewhere on set, Rami mounts a campaign to prove his work is not "dated"—even as he's forced to abandon his oversized jacket—while Prajje makes the case that his architectural origami shapes pack enough punch to qualify as "edgy." Christian's not convinced: "You're wrapping around a big scarf, looking like a Golden Girl going to lunch!" he complains. Prajje shoots the confessional camera the kind of side-eye that can only be described as bombastic, declaring, "I love the goddamn Golden Girls."
More From ELLE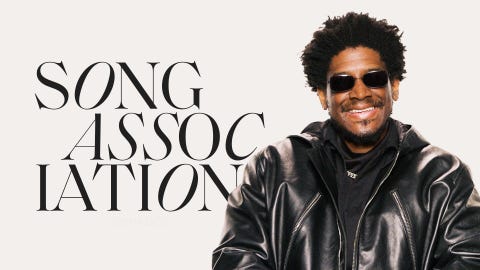 Still, it's Korto who foreshadows the drama to come when Christian makes it to her station. She's still upset about Brandon's comment from last week, during which he deemed her and Brittany's looks "a little safe." In Korto's opinion, "safe" means "boring," and neither "safe" nor "boring" belong in her vocabulary. Christian points out that Brandon was likely referring to the simplicity of her black-on-black sweater and trousers, which didn't feel particularly inventive for a no-holds-barred freedom challenge. Still, Korto insists she feels "damned if I do, damned if I don't." There's some truth to this critique; as Nina has pointed out during multiple judging rounds, fashion is a subjective art form. And I do think Korto has received some unbalanced feedback. But so have all the designers—plus, it's worth nothing Korto's only been in the bottom group once before this episode.
As the day goes on, the nerves heighten into something akin to hysteria. The crew all start dancing as music blares through the workroom speakers, with Bishme proclaiming, "This challenge has literally pulled out all of our brain cells, so you gotta shake that ass a little bit to loosen that brain up." Put it on a T-shirt, I implore! One of the greatest joys of this all-stars season has been watching what appears to be an authentic friendship grow amongst the cohort. As they all "shake that ass" together amongst the scraps of fabric and sewing needles, there's a remembrance that—hey, creating and wearing clothes is supposed to be fun! So it's odd to watch the episode end on such a sour note when the elimination stirs up further exasperation. But first, let's dig into this week's runway looks.
Brittany: Reader, I gasped. I'm sure plenty of naysayers will argue this look isn't modest—and, let's be clear, it's not—but that's part of the appeal of Brittany's interpretation: It's subversive. (The model's entirely covered in fabric, after all!) And then there's the quality of the garment itself, rendered in elegant sheer silver lace over those top-stitched undergarments. The design's so beautiful it earns the drop of a well-deserved curse word from Nina.
Prajje: I'm not sure I'm totally grasping the intent of this dress. The origami shapes attached to the scarf-cape are a wonderful Prajje signature, and I appreciate the audacity of the red-and-blue color scheme. But the gown itself looks stiff; the placement of the scarf over the neckline seems almost restrictive; and I'm not sure the abstract shapes alone provide this design anything other than a very literal "edge."
Laurence: Somehow, once again, Laurence has designed a leather outfit that fits her model's body like plastic wrap. It's impeccable! (As Brandon asks, "How does one get into that?") Her blazer-jumpsuit is cut in a beautiful pink that feels on-trend for our ongoing Barbie summer…though I admit I wish there were lapels.
Rami: He's not pretending to have invented a new silhouette, but Rami knows how to stitch himself a stunner. His black cut-out dress drapes his model in such a way that you know how well he understands and appreciates her body. That said, I don't think the judges are going to agree that this cape-sleeve situation is "oversized" enough to qualify for the challenge's theme.
Bishme: Bishme doesn't seem confident about the look he's sending out tonight, but honestly? I don't hate it. There are a few fit issues, and I wish the hoodie were better incorporated with the bodice. (And as Christian previously indicated, I think the beading is unnecessary.) But the idea, the color, the sex appeal—all feel like classic Bishme, which is to say forward-thinking and beautiful.
Korto: This might be one of my favorite Korto designs of the season. I love how she transformed a classic ball skirt into oversized trousers, and her choice to keep the bomber jacket unzipped (with nothing underneath) was a brilliant move. Still, I wish she hadn't picked this pink brocade fabric; it's weighing the whole look down.
"It's gonna be hard to pick three bottoms," Elaine says as the models make their way up and down the catwalk, to which Brandon replies, "Not that hard." I agree with Elaine, particularly after the judges actually reveal their picks for best and worst: Laurence, Brittany, and Rami in the top, with Bishme, Prajje, and Korto in the bottom. With guest judge and fashion designer Batsheva Hay contributing feedback, the panel ultimately gives Laurence the highest honor. And so it's Korto who's forced to pack up—apparently on account of the "not desirable" cut of her jacket (per Batsheva) and the pants "drown[ing] her model" (per Nina).
What follows this elimination is deeply uncomfortable to watch, but I have to respect Korto's gumption. Returning to the greenroom from the runway, Korto informs her fellow designers, "I'm not wasting any tears on this bullshit." (If I'm hearing her correctly—in the screener cut I received in advance of tonight's episode, this curse isn't bleeped out, so I can't be positive.)
"There's nothing wrong with my outfit," she continues once Christian arrives to see her off. "There's nothing ill-fitting about it; I don't care what anybody says. It was precise. I'm a good tailor, I'm a good designer—I'm a great designer—and I've made beautiful things in my life, and I will continue to. So nothing that's been said today is going to take anything from me. But I didn't come into a competition to play a game; I came into it to play it fairly and have a real, true chance. And there's nothing I designed tonight that was not what it was supposed to be. So, I wish y'all all the luck. Y'all were the gifts, and y'all were the prize."
No one seems to know what to say, least of all Christian, who only nods and murmurs, "Bye, Korto." All the other contestants look despondent as they stare at the floor or nod in Korto's direction, softly trading "love you" to each other. It's by far one of the most awkward moments of the season, wherein Project Runway seems to acknowledge its ranking system isn't exactly mathematical. But neither is fashion criticism in the real world, where influencers and tastemakers and buyers and editors can all decide what they like or dislike without necessarily sharing the same rubric. Korto's frustations are legitimate, but whether blame lies with the judges themselves or a larger ambiguity within the fashion industry—well, that's a question beyond the scope of what your trusty recapper can squeeze into one piece.
Next week, the competition heats up further as the designers duke it out for the best menswear look. As Christian so artfully puts it: "Bring in the men!!!"

Culture Writer
Lauren Puckett-Pope is a staff culture writer at ELLE, where she primarily covers film, television and books. She was previously an associate editor at ELLE. 
Source link