Showing is no longer a day-to-day activity that everyone performs. Instead, it has now become a daily indulgence. Today, we have brought a 10-mode shower head that transforms your daily shower into a revitalizing experience.
Whether you should invest your hard-earned money in this handheld shower head or not- let's find out.
Power of 10 Shower Modes
One of the most appealing features of the LUXEAR Handheld Shower Head is its versatility. This shower head offers 10 modes, including eight spray modes and two built-in wash modes.
These modes can be effortlessly switched with a simple turn of the dial, offering a different shower experience every time. The Point Jet mode is designed to remove soap scum, hair, and tile grime efficiently, while the Wide Fan mode makes quick work of rinsing larger areas. 
This versatility ensures you can tailor your shower to your needs and preferences.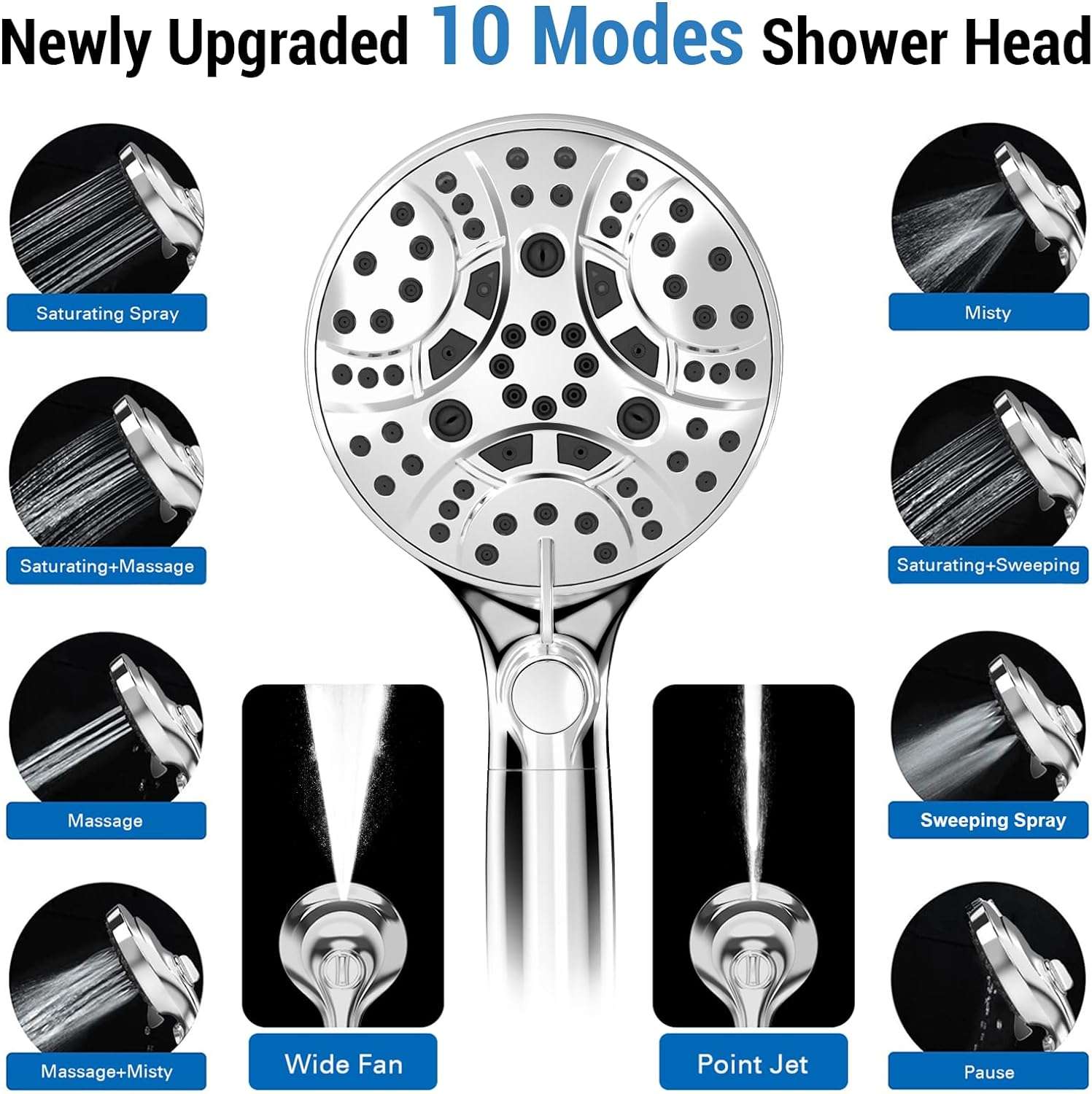 Filtered for Your Health
LUXEAR understands the importance of water quality for your skin and hair. That's why this shower head comes equipped with a 16-stage filtration system. Unfiltered hard water can often lead to problems like dry hair, itchy skin, and brittle nails. 
With a replaceable 16-level filter, the LUXEAR shower head can effectively remove 99.99% of chlorine, heavy metals, odors, and other impurities, ensuring that every inch of your hair and skin is clean and moisturized.
This filtration system aims to prevent skin dryness and hair loss caused by unfiltered water, making it a top choice for health-conscious individuals.
Air-Boosting High Pressure for a Spa-like Experience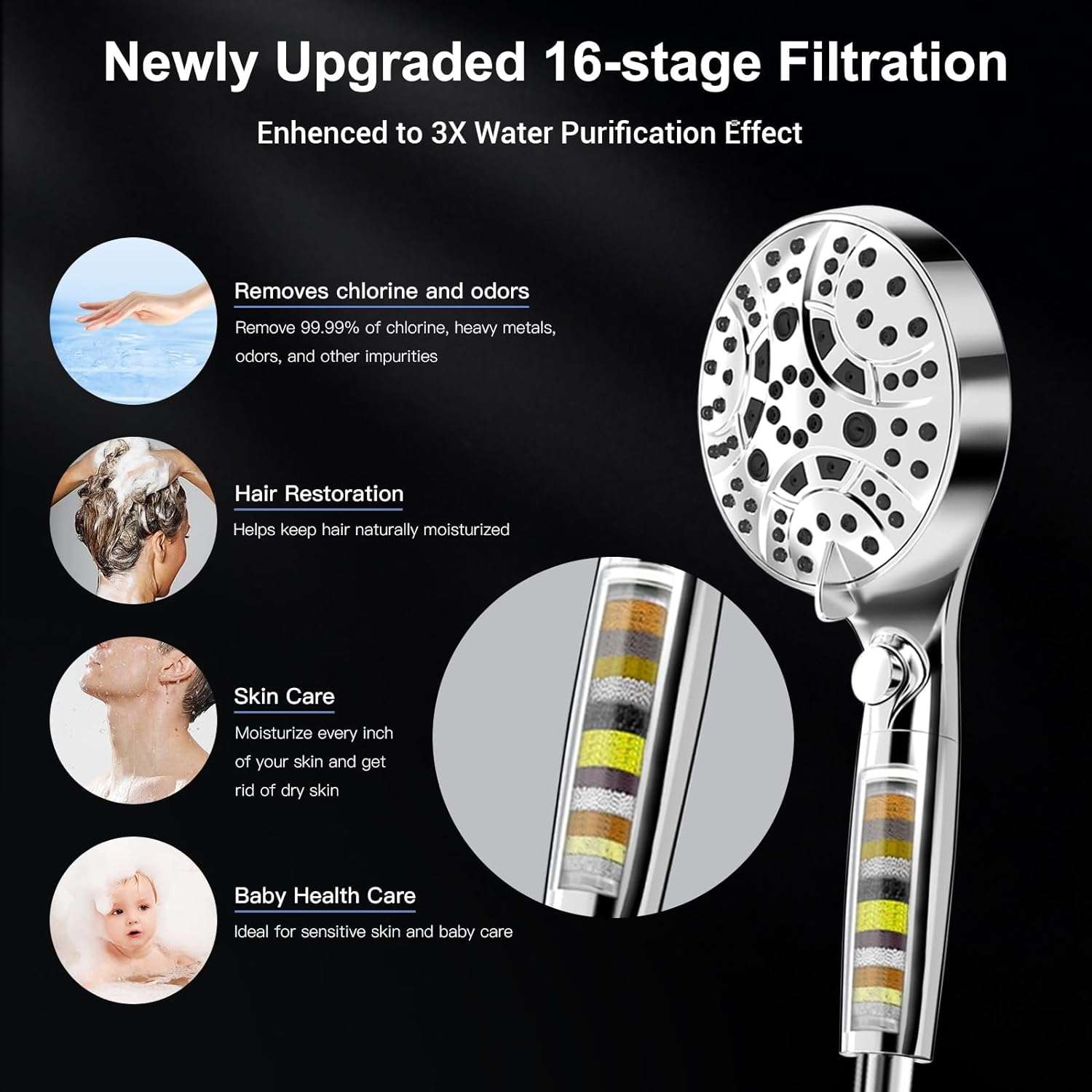 This LUXEAR Handheld Shower Head has a solution. This innovative shower head employs air-boosting technology to increase water flow speed and pressure by a staggering 200%. 
With its enlarged 4.7″ panel, it provides a denser, finer, and softer water flow. This not only quickly rinses away soap suds but also gives you a spa-like experience, even in areas with traditionally low water pressure.
Not only will you enjoy a revitalizing shower, but you'll also save water. This shower head is up to 30% more water-efficient than ordinary showerheads, making it an eco-friendly choice for your home.
Anti-Clogging Silicone Nozzle for Hassle-Free Maintenance
Over time, ordinary shower heads often accumulate dirt and become clogged. The LUXEAR Handheld Shower Head addresses this common issue by featuring a nozzle made of high-elastic silicone material with a self-cleaning function.
A User-Friendly ON/OFF Switch Button
This handheld shower head includes a one-button stop function, allowing you to easily control water flow while you wash your hair with your eyes closed or bathe your child or pet. 
Positive Aspects of this Handheld Shower Head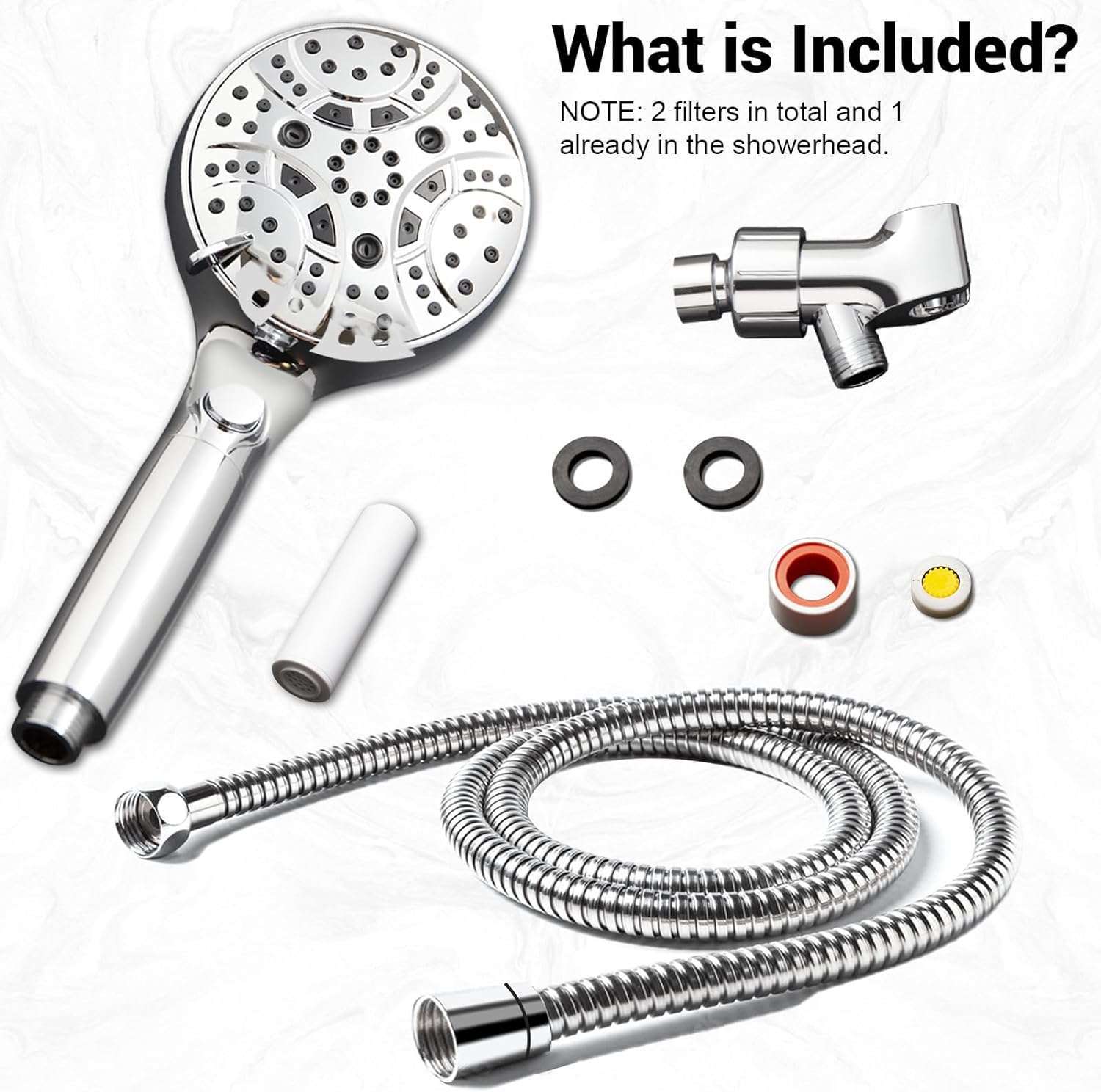 Versatile Shower Modes: Users appreciate the 10 shower modes offered by the LUXEAR shower head. This versatility allows for a personalized and enjoyable shower experience.
Effective Filtration: The built-in 16-stage filter impressively removes chlorine, heavy metals, odors, and impurities, addressing concerns related to water quality.
High Water Pressure: The air-boosting technology used in this shower head significantly enhances water flow speed and pressure, providing a spa-like experience.
Anti-Clogging Nozzle: The nozzle made of high-elastic silicone with self-cleaning functionality is appreciated for keeping the shower head clean and unobstructed over time. 
User-Friendly ON/OFF Switch: The one-button stop function on the LUXEAR shower head makes it convenient for controlling water flow
Filtered for Health: The 16-level filtration system is a significant benefit, as it aids in removing impurities and enhancing the overall water quality. 
Easy Installation: The LUXEAR Handheld Shower Head is praised for its easy installation, which includes a provided plumber's tape.
This 10-Mode handheld shower head offers an array of shower options and a filtration system to enhance your well-being. If you are looking forward to investing in this showerhead, you should consider your specific needs and preferences.
Especially for you, we offer a flat 10% discount when buying this shower head. You can redeem this discount using the coupon code EAZ64VPQ before 31 December 23.
Source link